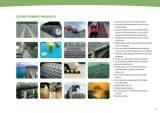 Target markets for crumb rubber application.
1. Covering constructive materials.
This material is widely used. It is a standard roofing material, mixture of bitumen and polyurethane. This standard roofing material can be also overflown with thiocole composition with rubber crumb fragments.
2. Roofing materials.
For the running of full complex of dwellings and manufacturing buildings covering works different kinds and classes of materials are required each with specific components: slopes (90% of rubber crumb is used here), sealing of joints (about 50 %) sealing of junctions (about 70%) covering itself (50%) and the upper layer, the thinnest and the most persistant, that protects all underlying layers.
3. Floor covering for sporting surfaces. Playgrounds elements.
Rubber crumb and textile cord are equally used here. The use of rubber crumb makes this cover cheaper and lighter, wear persistent. Its flow is higher and it is more durable.
4.The constructing fiber-concrete.
Textile and metal cords are mixed in certain proportion with rubber crumb and than added into dry sand-cement mixture. It can be used for deep pouring of basements.
5. Floor and ladder covering.
Polyurethane and 50% of fine dispersed (less than1 mm fraction) purificated rubber crumb are blended. Used for indoor as well as out-of-door spaces. It is a standard material and is manufactured by numerous companies.
6. Finishing constructing materials.
Thiocole (polysulfid) system as a standard material and fine dispersed crumb form persistent covering material that can be used as finishing or decorating wall material.
7. Tires recovery.
Up to 10% of the rubber crumb can be used in tires recovery process or in manufacturing of the new ones.
8. Manufacturing of automobile details and components.
Bumpers, mattings, basket of a trunk compartment, handles e.t.c. Fine dispersed crumb is used as an adding to different car mastics. Different crossings and speed bumps.
9. Bridge coverings.
The junctions are usually covered with imported materials while repairing. The use of rubber crumb in this area will lead to highly profitable sale of this product.
10. Tube stands of long distance pipelines.
It is very useful to manufacture new concrete tube stands to replace existing ones in ever frost subsoil areas using rubber crumb as one of the basic components.
11. Railroads.
This area of rubber crumb application (as an underrail bottom layer basement) is considered to be very promising.